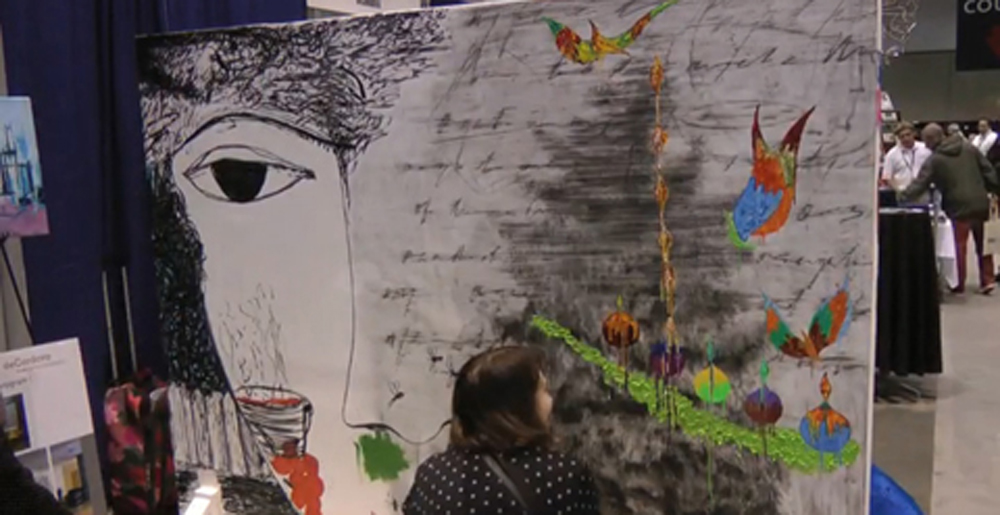 3 hour drawing project | 6 artists 3 days
At the deCordova Museum and Sculpture Park's booth at abx: The ArchitectureBoston Expo at the Boston Convention and Exhibition Center
---
now on display - June 2014
"Energy Field" acrylic paint on paper
Now at Sunovion Pharmeceuticals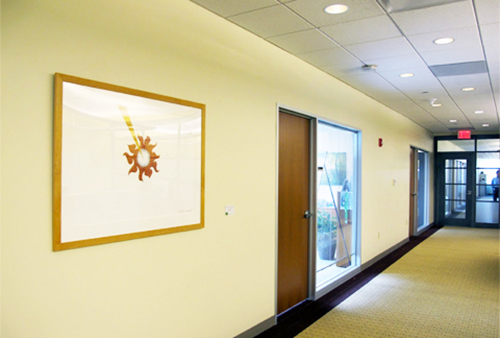 ---
news
3 hour drawing project|6 artists 3 days
Hosted at the ArchitectureBoston Expo by the Corporate Program at the deCordova Museum and Sculpture Park. Participating artists included Alexandra Rozenman, Peter Roux, Adam O'Day, Janis Redlich, Judith Ellen Sanders, and TD Heavican. A 6 ft x 6 ft white wall served as a great template for the creation of a two-sided work.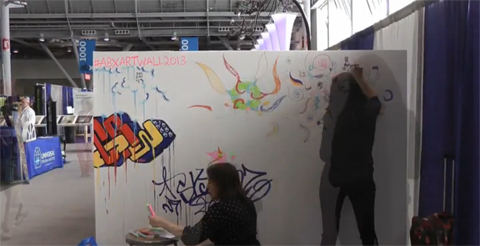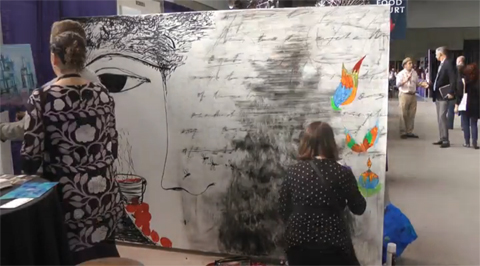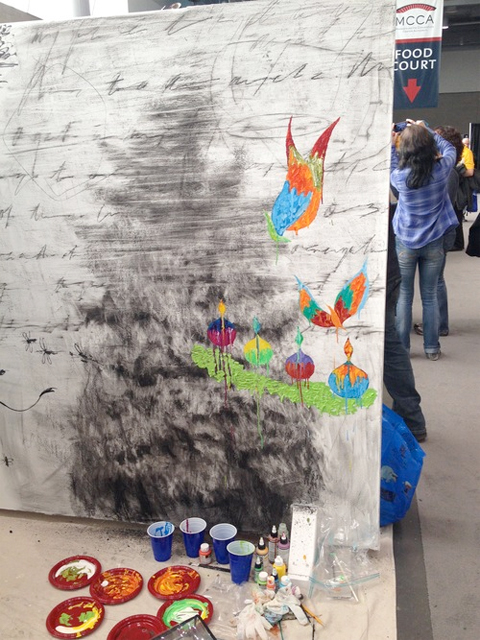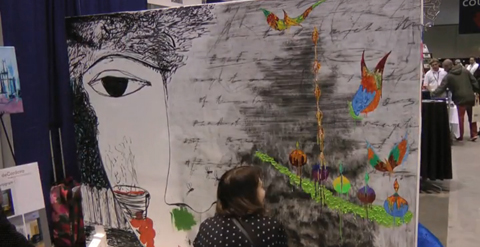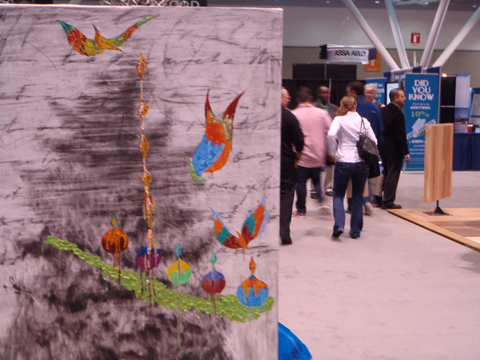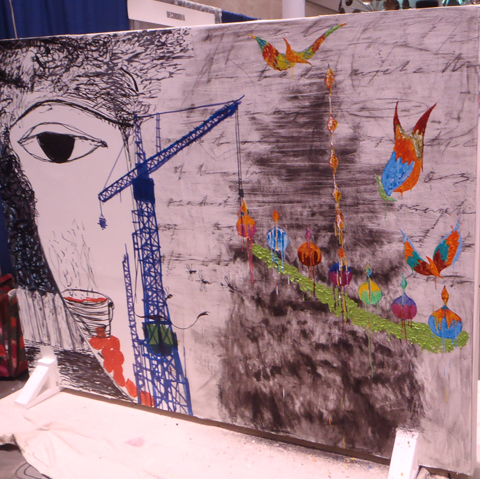 Judith Ellen's part is the birds and the candles, Adam O'Day painted the rig, Alexandra Rozenman painted the face and the coffee cup on the left, Peter Roux painted the lovely gray tree, and TD Heavican painted the gray designs running across from the left to the right.
now on display - June 2014
"Empty and Full" acrylic paint on paper
Now at Ballentine Partners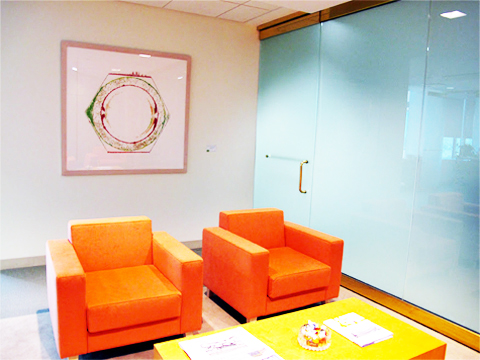 ---
in writing
April 6, 2014 online and April 7, 2014 in print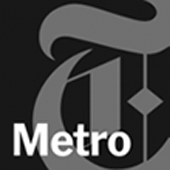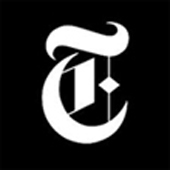 "Art Supplies from Heaven"
published in
The New York Times Metropolitan Diary
---
on display
"Circles of Light I and II" on Plexiglass
Two 30" x 30" panels by Judith Ellen Sanders
Now on permanent display commissioned by Baystate Health
for their Children's Hospital Specialty Center.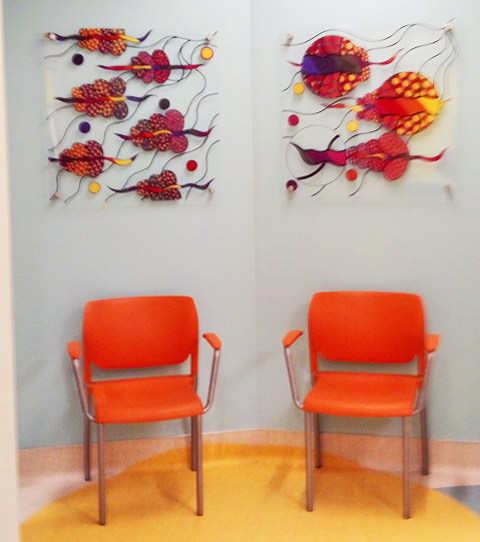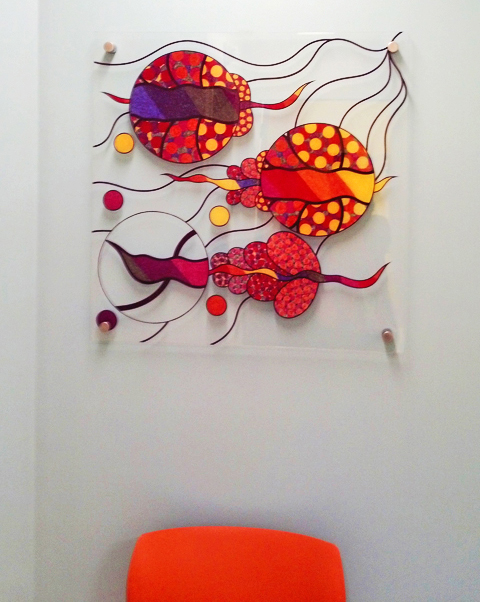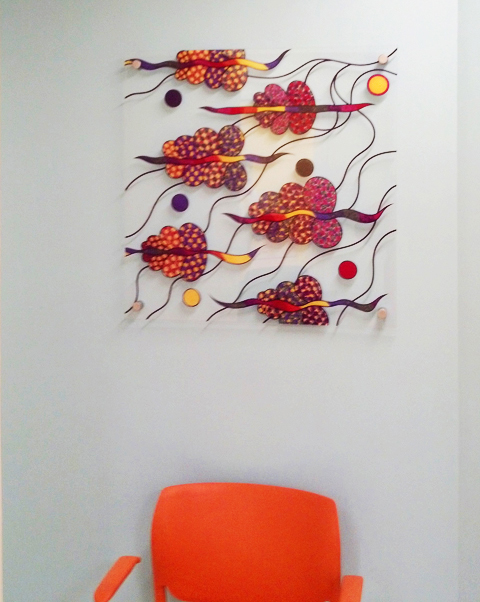 ---
---
on display
"Anemone" | Acrylic on Canvas | 62" x 72"
Now on display until 2015 at Lincoln Property Company with thanks to
the deCordova Museum and Sculpture Park's Corporate Loan Program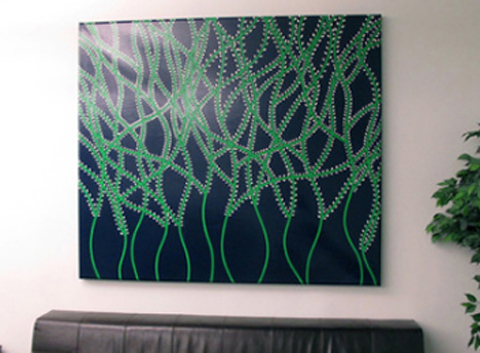 ---
©2014 Judith Ellen Sanders. All rights reserved.